Billing
Each Department will receive their monthly PrintSmart invoice through myUF Payment Solutions. Invoicing is done by device and by 8-digit Department ID number. For devices that are shared between more than one department, one designated department ID for each device will need to be assigned. The recipient of the invoice will be able to allocate the expense to multiple departments via myUF Payment Solutions.
The device on your bill will be identified by its 9 digit serial number (see sample invoice here). After reviewing the invoice, simply enter your chartfield information, click save and then the approve button. If you have any questions regarding your bill, please contact Crystal Norton at crystal.norton@xerox.com.
PrintSmart Billing Tip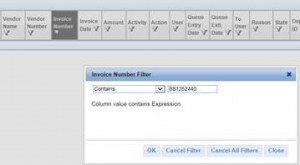 Within myUF Payment Solutions, you can search for a specific invoice without having to open up each attachment by searching for the device by the 9 digit serial number within your queue. To search myUF Payments for invoices using your serial number, click the filter icon for Invoice Number, from the dropdown select "Contains" and then enter the Serial number. It will display invoices for that serial number. Note: This only works for invoices with an invoice date after 3/21/15. (You may see some early invoices as well from early 2014).

To change or alter your cost center information, use the link above to submit your request to the PrintSmart team.
Note: Cost centers will be updated for current month if received by the "End of Business" on the 23rd of each month.