Monthly Performance Scorecard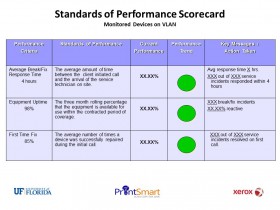 The PrintSmart team monitors the "Service Level Agreement" (SLA's) at our monthly business review meetings with Zeno. At this meeting we review several components of the SLA from the previous month which includes average response times, equipment uptime and first time fix. The results are summarized in the 'Standards of Performance Scorecard.' Click the link below for the latest scorecard.
In addition, we exam the type of issues that end users are experiencing along with identifying poor performing devices that are far below acceptable uptime standards for two or more consecutive months and determine corrective action. We also review the "Device Utilization" report to help identify devices that are being "over worked" or "under-utilized" to determine a course of action. If you have any additional questions regarding the SLA agreement, please free to contact procurement@ufl.edu.