Coming Soon!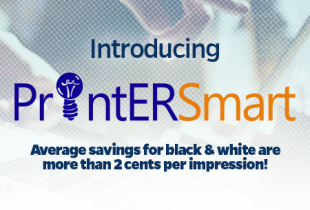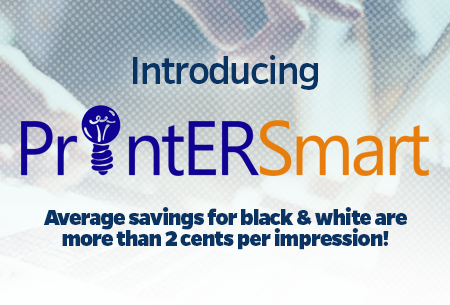 WHAT IS PRINTERSMART?
PrintERSmart is an enhancement to PrintSmart that provides a printer-only solution. It continues savings by providing a per impression charge for existing single-function printers (HP, Dell, Brother, etc.) to cover break/fix and supplies. Xerox has collaborated with LaserAction Plus to provide these services.
HOW DOES THIS WORK?
This program covers single-function desktop printers only. Most models are supported, although some older models, such as Inkjet, are exempt. A complete list of eligible devices is available on the PrintSmart web
The program covers break/fix and supplies, including maintenance kits (but not paper or staples).
If a device is unable to be repaired, the department has the following choices:
Option 1. The device will be replaced with a comparable unit with ownership remaining with LaserAction Plus at no cost to UF (aside from per impression fees).
Option 2. We will prepare a quote for an equal or comparable device to be purchased by UF and supported under the program.
Option 3. Upgrade to a PrintSmart multi-functional device or network printer.
WHERE DO THE SAVINGS COME FROM?
During the assessment for PrintSmart, data was collected on over 10,000 devices at the University of Florida. The average cost per print on those devices was $.0379 for b/w and $.0946 for color. Some per page rates were as high as $.25 for color!
The cost under PrintERSmart is $.014 for b/w and $.12 for color.
Average savings for b/w is over 2 cents per impression!
SOUNDS GREAT! HOW DO WE GET STARTED?
Submit a request via the link below.
We will schedule an initial meeting followed by a walk-through by representatives from Xerox and LaserAction Plus to assess any devices that you would like covered under this program*. It is best if this meeting included IT as well as financial approvers.
We will provide an estimated report of savings and a detailed listing of devices that we would support.
Upon financial approval, we would return to labelthe device with the helpdesk number and pull a configuration page for an initial billing read.
The devices would be moved in scope and available for services.
HOW DO WE REQUEST SERVICE OR SUPPLIES?
The same way you do for your Xerox devices. The helpdesk would remain the same regardless of vendor OR you can submit service or supply requests via the web portal (if assigned as a key device contact).